With Covid-19 cases increasing rapidly with each passing day, the educational institutes will have to wait longer to get back to their normal routine.
Maharashtra leads the tally when it comes to total cases followed by Tamil Nadu.
Educational Institutions have been the worst hit due to the current situation as there is not much clarity on the way things will function from now.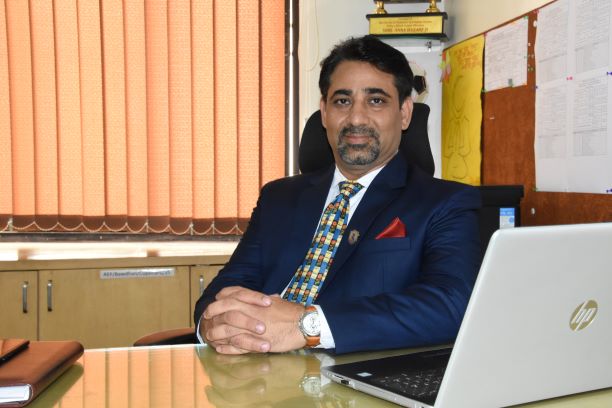 Puneinsight.com caught up with Kumendra Raheja, Director, RIIM – ARIHANT Group of Institutes Bavdhan who spoke about the institute and how Covid-19 has had en effect on the educational sector.
Throwing light on his journey in the field of education, Raheja said "My tryst with higher education began almost 13 years ago when I decided to move to the education sector post my corporate stints in sales and training with some of the prominent names in the industry. It has been a very satisfying journey, assistant professor to being a director, with numerous challenges strewn all across the path. I have spent time with some prominent names in education in Pune and on an International assignment that lasted for 2 years."
When quizzed on what makes RIIM Pune stand out when compared to other management colleges, Raheja was quick to say "Student Mentoring & Development Program, Comprehensive International Business Exposure Program, Multiple hands-on internship opportunities, participation in national and international competitions with names like IIM-B, IIM-K, IIM-Kol, X-Culture et al, academic tie-up with IIM-Indore for a comprehensive Management Development Program on IIM campus, Recruiter participation in student development for quality placements, Comprehensive 40-day induction program providing a solid launch-pad in the world of management and specialization focused Certification Programs making the students job-ready."
Speaking about how the lockdown has affected the education sector, Raheja said "The lockdown has left all the sectors high and dry and education sector was no exception. Speaking strictly in relation to Higher Education, it has affected both the existing as well as the potential students. The suspension of examination has unnerved the students with uncertainty over their progression. The other major impact has been on the student admissions and on-boarding owing to the unwillingness of parents to send their wards to other cities/states amid the Corona situation. Another very crippling effect has been on the financial status quo of the institutes as the lockdown has impacted the jobs and salary of many parents thereby making it difficult to pay up fees. Many corporates are adopting a conservative approach and revisiting their hiring plans, which would ultimately impact the placements thereby increasing the urban unemployment rate. Another area that would impact the quality and excellence of education is the faculty hiring that would surely take a beating amid lockdown. Additionally, the overall teaching and learning process includes a variety of assessments that help students assimilate the learning and due to closure, this will be impacted."
Expressing his views on the trend of online learning which has picked up, Raheja said "What was traditionally more prevalent among the working students or the ones who can ill afford to pay high fees of contact-class based programs, online education has now become the norm of the day, touching the lives of almost every student. With the pandemic affecting all the spheres of life and reigning uncertainty across the human life, the need for change in education has become evident and inevitable. In order to bring order to the chaos all around, it is important that we, the custodians of education, bring hope to the life of students and other stakeholders as the hope of continuous growth are what encourages people to give their best and keep trying to make a positive difference."
"Given the magnitude of the situation, there is no alternative to online education today and in my opinion, it is likely to become a constant feature of delivering education in the post-corona world as well. Perhaps, education may become more flexible and accessible by harnessing technology to its fullest. The rigid structures that were considered necessary until yesterday will have to give way to new thinking and ways in creating and delivering content," he added.
Message to the students who want to get into a management college:
Most of the students and parents are scared to take admission this year and understandably so. But it is important to approach the problem on hand with sound logic and not allow emotions to get better of you. Today, we are better equipped to handle the situation than we were at the start of it, we are better informed and aware about the preventive measures to be adopted and more importantly, we are mentally prepared to fight with this situation and come out victorious. Quoting from Suder Pichai's address of class of 2020, 'you are neither the first and certainly not be the last batch to face such situation……but you will prevail', which essentially harps on the need to have solution mindset as against the one riddled with fear and anxiety.
The students seeking admission into management colleges need to look at this as an opportunity presented to them to better their 'Tech-Quotient' and up-skill themselves in ways that were considered to be too advanced or "not-for-me" sorts.
This is a crucial year and I would suggest that you do not take it lightly as this would create a lot of demand on you to keep yourself abreast and up-skilled. It is now going to be more about your individual efforts as against what your institute taught you. Undoubtedly, there would be a far greater number of placement opportunities in your graduating year, but a lot would have changed by then requiring you to be more innovative, more solution-seeking and more technology-friendly. You will have to change your gear to adjust to this new-normal and exhibit sufficiently that you are well equipped to handle the change in whatever form it may come.
We, at RIIM, have already started engaging our new students with a comprehensive one-on-one Student Mentoring Program. This has not only helped the students fight the emptiness but also given them an opportunity to bring positive changes in their personality. I can proudly say that our student retention rate has improved since the time we started this program and now we have students who are very eager to continue to learn and evolve. Under this program, we have also brought many thought leaders from corporate, politics, public administration, education, entertainment, and motivation to interact with the students. This interaction has helped students better cope with the current situation, be hopeful about the future, and strive their best to keep learning.