As the number of coronavirus cases are growing with each passing day, the opening of schools and colleges might be pushed further. Parents are anxious about plans to reopen the schools. The administration has made it clear that schools will not reopen in June. With online classes running the show now for now, the trend will be here to stay, till the time the administration does not give permission to open schools which might take quite some months, depending on the covid situation.
Puneinsight spoke to a few teachers who threw light on how the trend of online classes is shaping up and what lies in the future.
Speaking about how the teachers have adapted to the trend, Jivika Makhija said "The idea was very new and confusing in the beginning. The teachers who used a board and manipulatives to teach, now had to use the laptop screen. The most effective impact of teaching is the personal touch which is missing. Teachers were not sure how would this go. And above all there was new technology which was going to be involved. Teachers mainly know the basic of all technologies but now they had to learn a lot of it and without any physical help. Even help was online. Till date many teachers are struggling to cope up with technology as it's never been used so much by them. But yes as teachers we give importance to our students. We adapted to it and took up the challenge to learn, explore and do new things everyday with technology for giving the best to our children during this situation."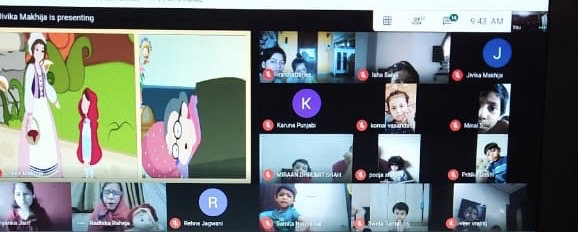 When quizzed about the challenges, Jivika said ""Initially getting used to new technology and software is a challenge. There is also a space issue sometimes. Not always there is free space at home and a quite place to take online class."
"Also sharing our house interiors with students who are with their parents is not comfortable at times. Sometimes teachers tend to get nervous and conscious as every parent listens to us. A small mistake and there are complaints from all directions. Inspite of all the struggle, we teachers have not stepped down."
Speaking on the effectiveness of online classes, Jivika said "Yes they can be effective if proper time and content is given by teachers and also taken by students and helped by parents. But yes it is not 100 percent effective as physical presence makes a difference. Also we are not sure if the children are actually listening and have understood what is being taught. The immediate feedback and interaction is missing. We can't teach the way we would teach in school. Children learn a lot of things from seeing and peer learning which is surely missing. And this is giving them a habit of using technology a lot and being in front of the screen which is not good. It can hamper their eyesight and also make them lose the value of books. So like everything else, even this trend has its own pros and cons."
"This trend has been taken up too fast. I am not sure about the future, but yes I do fear that it shouldn't be a major part in the days to come. What we learn by going to school, we can't learn through a screen. I suppose the trend can stay here. When in future, due to some reason the school can't open, may be again they can start with it for that period. Now it is going to be a new way of schooling. But hope it doesn't really take over the actual schooling," Jivika opined.

Another teacher Rose Denis said "Online learning has now become the new normal as teachers are finding ways to hold. Change has to be always welcomed, but this sudden change can hit hard on our ideas and methods of learning. Online classes are effective but we as teachers can use many teaching aids in the form of power point presentations or videos to make the class attractive but it is also not that effective from the students point of view as there is no social life involved where he/she can learn moral values. Online sessions can be the future, but only in difficult situations like Covid but not in daily the run."
Another teacher Kalpana R chipped in saying "Suddenly switching to dynamic learning was a bit challenging but it seems on track as teachers too are getting used to learn new methodologies with new techniques. Virtual learning sessions are very much time constraint due to continuous screen time. Children sitting in a classroom and sitting in front of camera has a lot of difference. This is an observation from teacher's side but from the students point of view, they are enjoying this new learning and are curious to know more through technology. Yes, it is effective till the students understand the concepts and meet the learning objectives."