The extravagant Lakmé Absolute Grand Finale is something we all look forward to and this year was no different. Even in its first ever digital avatar, Lakmé Fashion Week 2020 put the 'Spotlight' on the future of fashion and beauty with a stunning grand finale showcased by Rimzim Dadu and Saaksha & Kinni. Inspired by Lakmé's beauty theme of 'Spotlight Ready', the ramp witnessed the gorgeous actor and Lakmé ambassador, Mrunal Thakur flaunting their collections.
The Lakmé Absolute Spotlight collection is all about the eyes with Eyeshadow Palettes in four dazzling variants along with the new Lakmé Absolute Micro Brow Perfector. The collection offers a diverse range of intense matte and shimmer shades that surely does encourage everyone to be always #SpotlightReady.
Following her tradition of using the ramp as her artistic canvas, Dadu immersed the concept of kinetic art with tech for a live virtual experience. The set up consisted of specially-programmed kinetic lights to create mesmerizing patterns – mimicking her unique styles of amalgamating art, technology, and craft. The perfectly timed ebb and flow of the lights followed the progression of the show in perfect harmony with her collection. The ultra-glam look for Rimzim's collection was all about kohl rimmed eyes with the boldest shade from the latest Lakmé Absolute Spotlight collection.
Saaksha & Kinni's show was an impeccable display of vibrant colors, prints and textures with every single piece designed to celebrate the Banjara tribe and the resilience of the women. Its tribal-inspired clusters represented the nomadic lifestyle whilst adding depth through clean white spaces and dimensions through pillars in its virtual representation. In sync with their collection, the look was very fresh with a slight sheer on the lips and bright hues on the eyes from the latest Lakmé Absolute Spotlight collection.
"My association with Lakmé Fashion Week goes way back in 2007 when I started with GenNext and here I am today, as the Lakmé Absolute Grand Finale designer this season.  This was a whole new experience! It is wonderful to see how perfectly my concept of kinetic art synchronized with Lakmé theme of 'Spotlight Ready'." said, Rimzim Dadu, Lakmé Absolute Grand Finale Designer for Lakmé Fashion Week 2020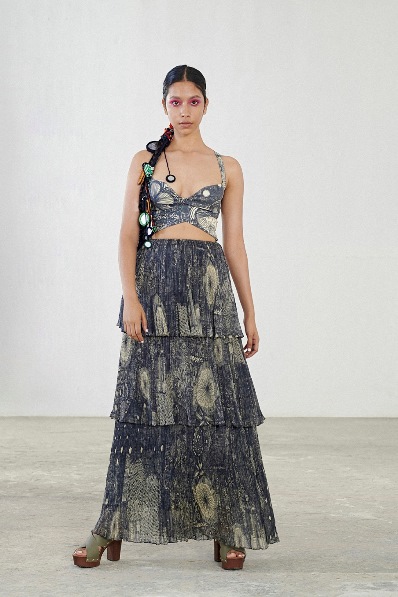 Saaksha Bhat & Kinnari Kamat, Lakmé Absolute Grand Finale Designer for Lakmé Fashion Week 2020 said "Lakmé Absolute Grand Finale is very special as we started our fashion journey with Lakmé Fashion Week a few years back. This platform has time and again motivated and encouraged us to do more and better. This time through our collection, we have aimed at putting the Spotlight on the less celebrated tribe of Banjara women and their spirit with colors and prints in all their glory, that India has to offer." 
"Walking the ramp as Lakmé Absolute Grand Finale showstopper for two such talented designers was nothing less than a dream come true. It was exciting to adorn their stunning collections and I hope to have done justice to it. They have beautifully brought alive the theme of 'Spotlight Ready' through their design as both my looks were created to match my finale outfits. This season was all about getting #SpotlightReady with the Spotlight eyeshadow collection and my favorite from the range has to be the Smokin Glam shade" says Mrunal Thakur, Lakmé Ambassador
Ashwath Swaminathan, Head of Innovations, Lakmé said, "This season our beauty theme is all about being #SpotlightReady, more so with the eyes in focus. Hence, we wanted the Lakmé Absolute Grand Finale too to put the spotlight on the future of fashion. Both Rimzim and Saaksha & Kinni's collections and films were a great finish to the first ever digital-first, season fluid edition of Lakmé Fashion Week."